Home / Rooftop Gardens - Ep. 406: Planet Echo (Season 4)
Rooftop Gardens - Ep. 406: Planet Echo (Season 4)
This title is a part of the series
Planet Echo (Season 4)
ADVENTURE: The boys travel to NYC to find out how to start a roof top garden in the middle of a big city... only problem is... Chuck is so hungry that he may end up eating everything they grow!
THE LAB: Dr. Greenie asks the question... "What came first, the seed or the plant?" It turns out to be, "the Guinea Pig." Because first you need poo to make soil!
---
Related Titles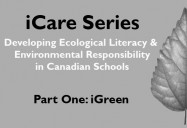 iCare: Program 1 - iGreen
McIntyre Media Inc.
MCI033
The urbanization and deforestation of North America has led to the development of concrete jungles...