Home / Gone Fishin' - Ep. 407: Planet Echo (Season 4)
Gone Fishin' - Ep. 407: Planet Echo (Season 4)
This title is a part of the series
Planet Echo (Season 4)
ADVENTURE: Rivers are vitally important to the health of the planet. Andy heads to the Amazon River basin to discover the secrets of one of largest rivers in the world while Chuck spends time helping to clean up the River Seine in Winnipeg.
THE LAB: Dr. Greenie spends some time with Fish Stick. He is concerned about the migration of invasive fish species into the lakes and rivers of North America and when it's time to clean Fish Stick's tank it gets taken over by a shark - who looks a lot like GP with a fin on his head.
---
Related Titles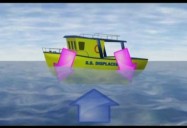 Rivers - Ep. 303: Planet Echo (Season 3)
Positive Productions Inc. and Media RendezVous Inc.
PE0303
In this episode we find out how river lock systems work. ADVENTURE: Andy tells Chuck that he can...