Home / À la découverte d'un monde de biodiversité: Une incroyable planète
À la découverte d'un monde de biodiversité: Une incroyable planète

This item is only available for Canadian orders.
This title is a part of the series
Une incroyable planète
Benoit et Zoey doivent décider du sujet de leur projet sur la biodiversité. Ils demandent l'aide de Stéphanie, la sœur de Zoey, une biologiste qu'ils rencontrent dans « son bureau », en trait d'étudier la vie dans un marais aux quenouilles dont elle espère assurer la préservation. Un promoteur immobilier a l'intention de raser le site pour y bâtir des résidences à coût modeste. Benoit et Zoey offrent de l'aider à étudier le marais dans l'espoir de le sauver, ce qui leur permettrait de compléter leur projet scolaire par la même occasion.
Please click here for the English version of this program.
---
Related Titles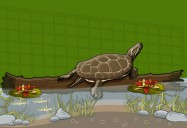 Les Enquêteurs de la planète incroyable
Pinegrove Productions
PPF000
Dans cette série de courts-métrages éducatifs qui reprennent le fil des aventures de Une...