Home / Échantillonner les formes de vie dans un marais urbain: Une incroyable planète
Échantillonner les formes de vie dans un marais urbain: Une incroyable planète

This item is only available for Canadian orders.
This title is a part of the series
Une incroyable planète
Benoit et Zoey apprennent à se servir de leur cinq sens pour aller à la découverte de l'extraordinaire biodiversité de leur marais. Ils apprennent ce que sont des échantillons de parcelles et des fiches signalétiques, et commencent à documenter tout ce qu'ils découvrent. Malheureusement, Benoit perd le téléscope de son père, ce qui oblige nos amis à faire une trépidante visite nocturne au marais.
Please click here for the English version of this program.
---
Related Titles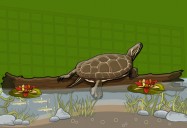 Les Enquêteurs de la planète incroyable
Pinegrove Productions
PPF000
Dans cette série de courts-métrages éducatifs qui reprennent le fil des aventures de Une...