Home / Les pratiques de la classification et la découverte des micro-organismes: Une incroyable planète
Les pratiques de la classification et la découverte des micro-organismes: Une incroyable planète

This item is only available for Canadian orders.
This title is a part of the series
Une incroyable planète
Benoit se réveille après avoir fait un cauchemar qui se passait dans un hôpital. Il perd les pédales quand il s'aperçoit que son corps est peuplé de millions de micro-organismes. Les deux jeunes entrent et analysent les données qu'ils ont compilées. Ils constatent qu'ils ont complètement oublié les micro-organismes. Au marais, ils rencontrent un scientifique qui leur fait découvrir le monde visqueux des algues, des précieuses bactéries et de millions d'autres micro-organismes.
Please click here for the English version of this program.
---
Related Titles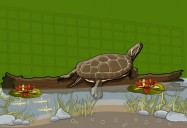 Les Enquêteurs de la planète incroyable
Pinegrove Productions
PPF000
Dans cette série de courts-métrages éducatifs qui reprennent le fil des aventures de Une...