Home / Comprendre l'adaptation à divers habitats: Une incroyable planète
Comprendre l'adaptation à divers habitats: Une incroyable planète

This item is only available for Canadian orders.
This title is a part of the series
Une incroyable planète
Benoit rêve qu'il lui pousse une autre paire de bras afin de s'adapter à son environnement. Benoit et Zoey retournent au marais pour la dernière fois, où Stéphanie leur explique comment certaines espèces se sont adaptées à cet environnement, comment elles interagissent, et comment leur survie dépend du marais. Ils se demandent comment les scientifiques en arrivent à savoir tant de choses sur diverses espèces, et sont exposés aux méthodes de radio-repérage.
---
Related Titles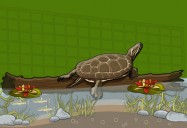 Les Enquêteurs de la planète incroyable
Pinegrove Productions
PPF000
Dans cette série de courts-métrages éducatifs qui reprennent le fil des aventures de Une...