Home / La présentation des conclusions - Comprendre l'impact de la présence humaine: Une incroyable planète
La présentation des conclusions - Comprendre l'impact de la présence humaine: Une incroyable planète

This item is only available for Canadian orders.
This title is a part of the series
Une incroyable planète
Benoit et Zoey s'apprêtent à présenter leurs conclusions aux membres du conseil municipal, à leur professeur et aux élèves de leur classe. Ils parlent passionnément de l'importance de la préservation des marais, tant pour les nombreuses créatures que pour les plantes et les gens dont le bien-être en dépend. Ils ont beaucoup appris sur les nombreux avantages des marais et communiquent leurs idées avec la conviction et l'autorité caractéristiques de gens bien informés. Résultat : la solution à laquelle on arrive satisfait les besoins du marais, du promoteur immobilier et des étudiants.
---
Related Titles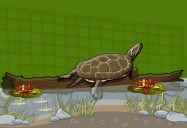 Les Enquêteurs de la planète incroyable
Pinegrove Productions
PPF000
Dans cette série de courts-métrages éducatifs qui reprennent le fil des aventures de Une...