Home / The Moneyless Man: Mark Boyle - The Green Interview Series
The Moneyless Man: Mark Boyle - The Green Interview Series

This item is only available for Canadian orders.
This title is a part of the series
The Green Interview Series
Catalogue Number:
PT0046
Producer:
Paper Tiger
Subject:
Canadian Social Issues
,
Canadian Social Studies
,
Canadian World Studies
,
Civics
,
Consumer Studies
,
Environmental Studies
,
Family Studies/Home Economics
,
Guidance
,
Philosophy
,
Science
,
Social Issues
,
Social Sciences
,
Social Studies
,
Sociology
Language:
English
Grade Level:
9 - 12, Post Secondary
Country Of Origin:
Canada
Copyright Year
: 2012
Running Time:
68
Closed Captions:
Yes
This episode of The Green Interview features Mark Boyle, who defied the odds when he launched an experiment to live for one year without spending any money. Nearly three years later, he remains the "moneyless man," living a subsistence lifestyle in Sussex, England. Boyle's first book, The Moneyless Man: A Year of Freeconomic Living (2010) chronicles his first year living without money. His second book, The Moneyless Manifesto (2012), delves more deeply into the philosophy behind a moneyless economy, and here, in this interview, he explains how to "live well, live rich, live free."
---
Related Titles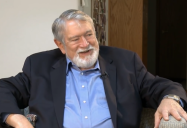 Replacing the 'Suicide Economy': David Korten - The Green...
Paper Tiger
PT0033
Interview with David Korten, an economist, author, activist, and prominent critic of corporate...