Home / Amyotte Boys, Chief Myke Agecoutay, Terrance Littletent: RezX TV, Season 2
Amyotte Boys, Chief Myke Agecoutay, Terrance Littletent: RezX TV, Season 2

This item is only available for Canadian orders.
This title is a part of the series
RezX TV, Season 2
Watch Cadmus Delorme's final story where he interviews two young baseball players, Landen and Talon Amyotte. Our weekly segments continue with "A Proud Generation" Calendar Profile, "RezX Weekly Podcast" with Chief Myke Agecoutay as our special guest, and "RezX Sessions" with Terrance Littletent in the studio.
---
Related Titles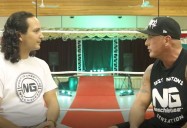 Cadmus Delorme Wrestles Wavell Starr; The Reckless Famous...
Chris Tyrone Ross and RezX/IndigenX
REZ010
This episode is a special one, as co-host Cadmus Delorme went inside the ring with wrestler Wavell...