Home / NOVA: Monster of the Milky Way
NOVA: Monster of the Milky Way

This item is only available for Canadian orders.
Catalogue Number:
WG0176
ISBN Number:
1-593756-52-6
Producer:
WGBH
Subject:
Astronomy
,
Physics
,
Science
Language:
English
Grade Level:
9 - 12, Post Secondary
Country Of Origin:
U.S.
Copyright Year
: 2007
Running Time:
56
Closed Captions:
Yes
Join NOVA on a mind-bending hunt for a monster lurking at the heart of our Milky Way galaxy. Astronomers are closing in on one of the most destructive objects in the universe - a supermassive black hole - and it's hiding right in the center of our own galaxy. Eventually, it will blast jets of radiation millions of miles its space, incinerating everything in its neighborhood, including planet Earth.
For a long time, black holes were dismissed as pure science fiction. Even Albert Einstein could not bring himself to accept them, despite pioneering the theory of relativity that predicted their existence. But recently, scientists have found convincing evidence that black holes are not only real but are crucial to the life and death of galaxies everywhere in the cosmos.
From the explosive birth of a black hole to its cannibalistic death throes, NOVA investigates one of the universe's darkest secrets. With striking special effects, Monster of the Milky Way takes viewers on a scientifically accurate voyage into the belly of a supermassive black hole. When will it erupt and destroy the Milky Way?
"A thought - provoking program sure to appeal to anyone who has marveled at the insights of Tyson, Stephen Hawking, Kip Thorne, Brian Greene, and other popular explorers of astrophysical theories and discoveries, this is highly recommended." - Video Librarian
---
Related Titles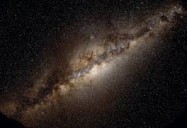 The Milky Way: Cosmic Vistas (Season 4)
Blue Ant Media
BAM057
This episode explores the Milky Way from the mythology of ancient sky watchers to how scientists...