Home / White Water, Black Gold - A Nation's Water in Peril (French Version)
White Water, Black Gold - A Nation's Water in Peril (French Version)

This item is only available for Canadian orders.
White Water, Black Gold is an investigative point-of view documentary that follows David Lavallee on his three-year journey across western Canada in search of answers about the activities of the world's thirstiest oil industry: the Tarsands. As a mountaineer and hiking guide, David is on the front lines of climate change. Over the past 15 years he has worked in the Columbia Icefields of the Canadian Rockies, and has noticed profound changes in the mountains: climate change is rendering these landscapes unrecognizable.
In the course of his journey he makes many discoveries: new science shows that water resources in an era of climate change will be increasingly scarce (putting this industry at risk); Indigenous people living downstream are contracting bizarre cancers; the upgrading of this oil threatens multiple river systems across Canada and the tailings ponds containing the waste by-products of the process threaten to befoul the third largest watershed in the world. Additionally, a planned pipeline across British Columbia brings fresh threats to BC Rivers and the Pacific Ocean.
*** Please click here for the English version of this program. ***
GUIDE



WINNER: Best Canadian Film – Vancouver Int'l Film Festival
"Highly Recommended. - Educational Media Reviews Online
"Eye-opening." – Booklist
---
Related Titles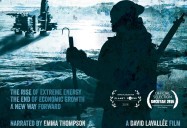 To the Ends of the Earth (French Version)
White Gold Productions
WGP000FR
Narrated by Emma Thompson, this documentary examines the rise of extreme energy extraction in...