Home / The Case for Loving: The Fight for Interracial Marriage
The Case for Loving: The Fight for Interracial Marriage

This item is only available for Canadian orders.
Written by Selina Alkko
Illustrated by Sean Qualls
This is the story of one brave family: Mildred Loving, Richard Perry Loving, and their three children. It is the story of how Mildred and Richard fell in love, and got married in Washington, D.C. But when they moved back to their hometown in Virginia, they were arrested (in dramatic fashion) for violating that state's laws against interracial marriage. The Lovings refused to allow their children to get the message that their parents' love was wrong and so they fought the unfair law, taking their case all the way to the Supreme Court - and won!
Kirkus Best Picture Books of 2015
---
Related Titles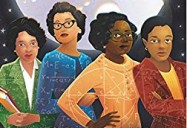 Hidden Figures: The True Story of Four Black Women and the Space...
Weston Woods
WW3065
Written by Margot Lee Shetterly with Winifred Conkling Illustrated by Laura Freeman Narrated by...