Home / Mary McScary
Mary McScary
This title is a part of the series
Weston Woods Fall 2018 New Releases

Book by R.L. Stine, ill. by Marc Brown (Orchard) -
Meet Mary McScary. Mary likes to be scary. She scares her mom, her dad, her pets, and even a balloon!

But there's just one person Mary can't scare -- her cousin, Harry McScary. He's not afraid of the usual things, like spiders, snakes and other creepy crawlies.

But Mary doesn't give up that easily, and one way or another she'll find a way to give Harry the scare of his life...Beware of Mary McScary!
Narrated by Emily Eiden.
Music by Ernest Troost.
Animated by duple.
Includes a joint interview with author R.L. Stine and illustrator Marc Brown.
Animated
.
NOTE:
Each new DVD now includes Video Description, a secondary audio track containing additional descriptive narration for improved accessibility for the blind and visually impaired as well as our Read-Along feature which allows children to follow each word as it is simultaneously narrated and highlighted on the screen, strengthening vocabulary, comprehension and fluency.
DVDs now offer four options:
Read-Along, closed-caption subtitles, no text at all and descriptive narration.
---
Related Titles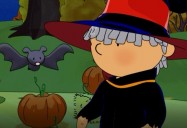 The Witch and the Dragon (Episode 11): Manon
Sardine Productions
SAR079
Tonight Manon and her friends are celebrating a traditional holiday: Halloween! Manon dresses up as...