Home / Al Capone: Icon
Al Capone: Icon

This item is only available for Canadian orders.
Was Al Capone the quintessential self-made American man, a ruthless killer, or both? From his early days rising through the ranks of New York's gangs, to his slow demise in the aftermath of the St. Valentine's Day Massacre, this film chronicles the complicated life of one of America's favorite mob bosses. Capone was not only a bootlegger, killer, and gangster, but also a popular public figure who opened one of the nation's first soup kitchens, and was a devoted patron and guardian of jazz, giving African American musicians opportunities that they would otherwise never have had.

More than 80 years have passed since the height of Capone's power, yet his impact is still felt today. Al Capone: Icon examines Capone's personal history and lasting legacy and unveils his unexpected connections to modern-day organized crime, law enforcement, popular culture from movies to rap music, and even everyday life in Chicago.
---
Related Titles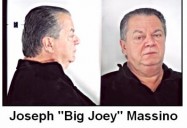 Secrets of the Dead: Gangland Graveyard
PBS Video
040685
On October 6, 2004, FBI agents began digging up a Queens swamp in the hopes of finding the remains...