Home / NATURE: Owl Power
NATURE: Owl Power

This item is only available for Canadian orders.
Catalogue Number:
041780
Producer:
PBS Video
Subject:
Science
Language:
English
Grade Level:
9 - 12, Post Secondary, Adult
Country Of Origin:
U.S.
Copyright Year
: 2015
Running Time:
60
Closed Captions:
Yes
For centuries, the mysterious nighttime lives and uncanny hunting skills of owls have made them fascinating hallmarks of children's stories and folk tales the world over. But what actually makes owls so special? Bird trainers Lloyd and Rose Buck and their very special family of owls, eagles, falcons, geese, pigeons, and two newly-hatched barn owls - Luna and Lily - provide a rare opportunity to learn more about these unique birds. Using the latest in camera technology, computer graphics, x-rays and super-sensitive microphones, we can take a brand new look at owls in more detail than ever before. The real stories behind how they hunt, how their vision and hearing works, and how they fly so silently are influencing 21st century technology and design.
---
Related Titles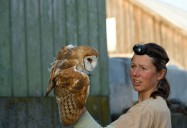 Silent Flight: Conserving the Barn Owl
Wilderness Committee
010043
Following biologist Sofi Hindmarch on her quest to understand and conserve the barn owl in the...