Home / FRONTLINE: Outbreak
FRONTLINE: Outbreak

This item is only available for Canadian orders.
Why wasn't the Ebola outbreak stopped?

When the largest Ebola outbreak on record began to devastate West Africa, why did it take so long for the world to respond? This film tells the vivid, inside story of how and why the Ebola outbreak in West Africa wasn't stopped before it was too late, drawing on revelatory and candid admissions of failure from key government and public health officials, including the President of Liberia, the Director of the Centers for Disease Control and Prevention, and multiple top World Health Organization officials. From the jungles of Guinea to the slums of Monrovia, Outbreak exposes tragic missteps in the response to the epidemic.

Award-winning journalist Dan Edge (The Wounded Platoon) and his team spent four months in West Africa tracing Ebola's path, interweaving material filmed inside the Ebola zone with the timeline of the world's response to lay out the turning points of how this tragedy might have been avoided. Outbreak raises questions about whether governments and global health organizations have the capacity to respond at the right scale the next time the world faces a major infectious epidemic.
"A searing documentary... infuriating, frightening and mobilizing." - Andrew Freedman, Mashable

"...this sort of deep dive is a perfect example of the cool, contextual reporting that 'FRONTLINE" delivers." - Variety

"The 'FRONTLINE' examination does a nice job of at least beginning to ask the questions that need to be asked while keeping the human drama front and center." - The New York Times
---
Related Titles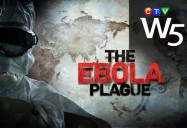 The Ebola Plague: W5
CTV
CTV638
It can seem as odd as it is frightening, how a virus that can be killed with a bit of bleach can be...