Home / My Italian Secret: The Forgotten Heroes
My Italian Secret: The Forgotten Heroes

This item is only available for Canadian orders.
Would you risk your life to save a stranger? My Italian Secret tells the story of cycling idol Gino Bartali, Dr. Giovanni Borromeo, and other courageous Italians who carried out ingenious schemes to rescue Jews, partisans, and refugees from Nazi-occupied Italy.

Celebrated as a Tour De France champion, Gino Bartali's most daring triumph came when he risked his life to save Italian Jews by smuggling fake identification documents in the frame of his bicycle. Dr. Borromeo invented a fictitious disease to scare the SS away from the hospital where he was hiding Jews.

These men, and the networks in which they worked, reflect the efforts of thousands of Italians who risked their lives to save others. As an entire continent was engulfed in genocide, more than 80 percent of Italy's Jews survived. In My Italian Secret, Oscar®-nominated director Oren Jacoby reveals the dramatic stories of a secret underground that has remained largely unknown until now.
---
Related Titles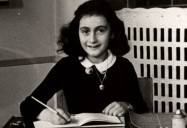 The Diary of Anne Frank: A Tale of Two Sisters
Films Media Group
394689
This film tells the stories of Anne Frank and Eva Schloss, whose young lives paralleled each other...