Home / FRONTLINE: ISIS in Afghanistan
FRONTLINE: ISIS in Afghanistan

This item is only available for Canadian orders.
Inside the rise of ISIS in Afghanistan and how they're training the next generation of jihadists. With rare access to ISIS, Correspondent Najibullah Quraishi sees first-hand their spreading power. Also includes, Taliban Hunters, Pakistan's police fight against the Taliban.
---
Related Titles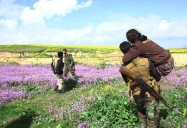 FRONTLINE: Escaping ISIS
PBS Video
041810
The gripping, first - hand accounts of women who escaped the brutal reign of ISIS. This...