Home / NOVA: Iceman Reborn
NOVA: Iceman Reborn

This item is only available for Canadian orders.
Murdered more than 5,000 years ago, Otzi the Iceman is the oldest human mummy on Earth. Miraculously preserved in glacial ice, the intact remains of this Neolithic European hunter continue to provide scientists, historians, and archeologists with groundbreaking discoveries about a crucial time in human history. But in order to preserve it, this extraordinary body has been locked away, out of reach, in a frozen crypt - until now.
NOVA joins renowned artist and paleo-sculptor Gary Staab as he has been granted rare access into the Iceman's frozen lair. Gary has been charged with creating an exact replica of the body, which scientists and the public alike can then study up close and in person. As we see the Iceman brought to life from 3D printing, resin, clay and paint, new revelations about Otzi's life and legacy come to light.
---
Related Titles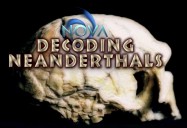 NOVA: Decoding Neanderthals
PBS Video
041620
Over 60,000 years ago, the first modern humans - people physically identical to us today, left...