Home / Martin Luther: The Idea that Changed the World
Martin Luther: The Idea that Changed the World

This item is only available for Canadian orders.
Martin Luther: The Idea that Changed the World Narrated by Hugh Bonneville (Downtown Abbey), the film brings to life the great adventure story of Luther's struggle. Undoubtedly, Martin Luther was one of the last most influential and interesting people of the last millennium. The film vividly portrays the key moments in his story: the massive lightning storm that nearly killed him, the bleak self-punishment of his time in the monastery, the corruption that unleashed his anger, the theological breakthrough that reset Christian thought, his trial before the most powerful man in Europe, the staged kidnapping that helped him escape the death penalty, and his ongoing drive to reform the church.
---
Related Titles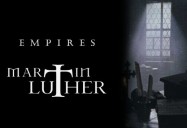 Empires: Martin Luther
PBS Video
040013
Martin Luther's 95 theses gained popularity with the common people, but the Church excommunicated...