Home / Passamaquoddy Bay Shellfish: Aerni Rossmount: Untamed Gourmet Series (Season 1)
Passamaquoddy Bay Shellfish: Aerni Rossmount: Untamed Gourmet Series (Season 1)
This title is a part of the series
Untamed Gourmet Series (Season 1)
Swiss Chef Chris Aerni's Rossmount Inn Restaurant changes its menu on a daily basis to accommodate the freshest ingredients land and sea has to offer. Chris dives for scallops in New Brunswick's Passamaquoddy Bay. He collects fiddleheads, samphire greens, cattail hearts, clams, and periwinkle snails.
---
Related Titles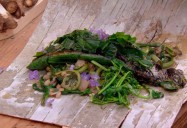 Grey Highlands Rainbow Trout: Aaron Bear: Untamed Gourmet Series...
291 Film Company
291007
Chef Aaron Bear Robe used to operate the Aboriginal themed restaurant Keriwa Cafe in the bustling...