Home / Lac La Ronge Lake Trout: Moe Mathieu: Untamed Gourmet Series (Season 1)
Lac La Ronge Lake Trout: Moe Mathieu: Untamed Gourmet Series (Season 1)
This title is a part of the series
Untamed Gourmet Series (Season 1)
Chef Moe Mathieu uses local ingredients in his Saskatchewan restaurants. In the fall, he travels to Lac La Ronge where he harvests wild rice, chanterelle mushrooms, blueberries, and rosehips. Returning in the dead of winter, he nets lake trout, whitefish, and burbot through the ice.
---
Related Titles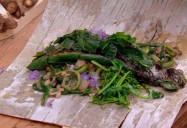 Grey Highlands Rainbow Trout: Aaron Bear: Untamed Gourmet Series...
291 Film Company
291007
Chef Aaron Bear Robe used to operate the Aboriginal themed restaurant Keriwa Cafe in the bustling...