Home / Vancouver Island Dungeness Crab: Sinclair Philip: Untamed Gourmet Series (Season 1)
Vancouver Island Dungeness Crab: Sinclair Philip: Untamed Gourmet Series (Season 1)
This title is a part of the series
Untamed Gourmet Series (Season 1)
Sinclair Philip's Sooke Harbour House, on Vancouver Island, features an edible landscape of over 200 herbs, greens, flowers, and vegetables. Chef Robin Jackson and restaurateur/forager Sinclair Philip search the area's seashore, forests, and rivers for salmon, crab, crayfish, seaweed, and mushrooms.
---
Related Titles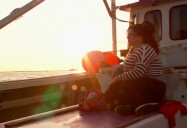 Prince Edward Island Lobster: Ilona Daniel: Untamed Gourmet...
291 Film Company
291012
Chef Ilona Daniel travels Prince Edward Island with her Mi'kmaq friend foraging for razor and bar...