Home / Cowichan Valley Mule Foot Hog: Brock Windsor: Untamed Gourmet Series (Season 2)
Cowichan Valley Mule Foot Hog: Brock Windsor: Untamed Gourmet Series (Season 2)
This title is a part of the series
Untamed Gourmet Series (Season 2)
Chef Brock Windsor utilizes only local ingredients in his restaurant. Together with medicine woman Della Rice Sylvester, he combs the rainforests in Cowichan Valley, BC for blackberries, huckleberries, and lobster mushrooms. He combines these with his own domesticated wild ingredients like nodding onion, Jerusalem artichoke, and a smoked mulefoot hog.
---
Related Titles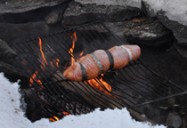 Qu'Appelle Valley Mule Deer: Dickie Yuzicapi: Untamed Gourmet...
291 Film Company
291002
"Sioux Chef," Dickie Yuzicapi, creates modern variations on traditional Aboriginal cooking. In...