Home / Faces in the Land with Dempsey Bob: Landscape as Muse (Season 4)
Faces in the Land with Dempsey Bob: Landscape as Muse (Season 4)
This title is a part of the series
Landscape as Muse (Season 4)
Tahltan-Tlingit artist Dempsey Bob has devoted a lifetime to the craft of woodcarving. His work arises from a northwest coast carving tradition that stretches back for centuries. A contemporary master, Dempsey has advanced this form - creating sculptural works that expand on traditional designs. In the BC rainforest near the Skeena River, Dempsey Bob creates masks for our camera. For him the great trees, giant mountains, and mighty rivers are his inspiration. We are, as he puts it, in sculpture country.
---
Related Titles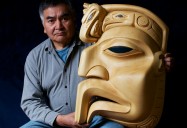 Carver of Stories: DocJam Series
Canazwest
CPI006
"Art has to come from a history and foundation, and ours is our stories..." Those are the words of...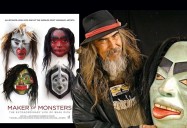 The Maker of Monsters: The Extraordinary Life of Beau Dick
Athene Films Inc
AFI000
Maker of Monsters gives an intimate look into the life of one of Canada's greatest artists. The...