Home / Biodiversity: The Web of Life
Biodiversity: The Web of Life

This item is only available for Canadian orders.
From the penguins in Antarctica to tree frogs in Costa Rica, to E. coli bacteria in the human intestines, this video and print program focuses on the incredible variety of life on our planet and explores the biological processes at work in communities and ecosystems throughout the globe. Students see exotic footage demonstrating how life has adapted to all kinds of ecosystems - from the desert to the rain forest and coral reefs. Viewers will appreciate why biodiversity is so important to their own well being, and will come to recognize how the rapid growth of the human population poses a variety of threats to other species. In addition, the program examines global efforts to protect biodiversity through habitat preservation, the protection of air and water quality, and as a last resort - captive breeding.

Accompanying Teacher's Resource Book offers follow-up student worksheets for classroom use.
---
Related Titles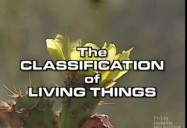 The Classification of Living Things
Human Relations Media
600269
There are millions of different species living today, and these represent a tiny fraction of all...