Home / Abusing Over-the-Counter Drugs
Abusing Over-the-Counter Drugs

This item is only available for Canadian orders.
Catalogue Number:
600319
Producer:
Human Relations Media
Subject:
Health and Medicine
Language:
English
Grade Level:
9 - 12, Post Secondary
Country Of Origin:
United States
Copyright Year
: 2004
Running Time:
25
Closed Captions:
Yes
Teen drug abuse isn't limited to illicit drugs. Many OTC (over-the-counter) drugs are misused by kids - from cold remedies to pain killers to diet pills. This program explores the most common abuses of OTC drugs and shows the chemical, biological and psychological damage that can result from abusing these ordinary drugs. Particular attention is paid to DXM, the powerful medication linked to recent deaths of young people across the country. DXM is a legal drug found in many OTCs, but it has the same qualities as drugs considered much more dangerous like heroin. The cold tablet form of this drug is the basis of a new and dangerous form of OTC drug abuse called skittling, which can also result in coma or even death. The dangers of this kind of abuse are brought home through the tragic story of Jennifer Darling, a high school student whose apparent experimentation with the drug was a cause in her own death. Students will also hear a no-nonsense message from a district attorney describing the severe legal consequences teens can receive if found driving or committing a crime while under the influence of these substances. The program also teaches viewers how to carefully read and understand OTC drug labels for active ingredients and potential overdosage.
---
Related Titles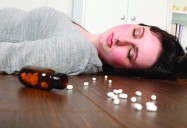 Overdose Epidemic: What Can Be Done to Stop It?
Human Relations Media
600637
The spike in drug overdose is alarming and dangerous - it has become an epidemic in many...