Home / Amazing Kids of Character Series
Amazing Kids of Character Series

This item is only available for Canadian orders.
This uplifting five-part series highlights crucial cornerstones of character courage, empathy, perseverance, respect and responsibility by showing real kids who achieved amazing results for themselves and their communities. Each character trait is represented with three different profiles of truly amazing kids and hosted by a diverse, multiethnic group of students from around the country. These inspiring stories are sure to encourage your students to stand up and stand out. Follow-up activities in the Teacher's Resource Book give ample opportunities for class discussion and continued exploration of these pivotal character themes.
Portraits of Courage: Profiles Victor Chavira (12) who saved his father from drowning in their backyard swimming pool, Alexis Paige (11), a blossoming young gymnast who qualified for the Junior Olympics National Championships by overcoming tremendous obstacles and Johnny Ramono (8) who, after developing leukemia, created a line of skateboards to help raise money for other kids with cancer.
Portraits of Empathy: Profiles Adam Seldon (12), the "little drummer boy" who raised money for orphaned friends he left behind in his native Liberia; Jenessa Largent (12) who made thousands of bracelets for the troops in Iraq and Afghanistan; and Braxton Bilbrey (8) who became the youngest person to swim from Alcatraz to San Francisco to raise money for drowning awareness.
Portraits of Perseverance: Profiles the hard work and determination of Jason McElwain (17), an autistic equipment manager for a varsity basketball team, who scored 20 points in 4 minutes after finally being called on to enter a game; Ji-Yung (15), one of the youngest concert pianists ever to be signed by a professional agency, and Joshua Coles (8), a budding chess champion who defeats opponents many times his age.
Portraits of Respect: Profiles Evan Green (12) who is helping save California coral reefs by raising money door to door; April Baldwin (15) who works with the Birmingham Civil Rights Museum to teach students about respect; and a Native American teenager who is involved in preserving the heritage and customs of her people.
Portraits of Responsibility: Profiles Ben Underwood (16) who lost his sight at the age of two and now uses a unique version of sonar to navigate in the sighted world; a diverse group of 5th graders who travel to Death Valley on a mission to help restore its unique landscape; and Hunter Stewart (8) who races cars to raise money for breast cancer awareness.
Includes Resource Guide.
---
Related Titles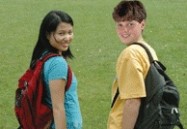 Play It Safe: Strategies for a Safe School Environment
Human Relations Media
600467
This video uses dramatic vignettes, real person interviews and teen hosts to help teach students...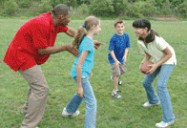 Teamwork and Team Play: How to be a Good Sport
Human Relations Media
600497
A series of humorous vignettes helps students explore the benefits of working as a team - whether...