Home / You Are In Charge Of Your Body
You Are In Charge Of Your Body

This item is only available for Canadian orders.
You Are In Charge of Your Body is an age-appropriate, comprehensive curriculum (video and print) developed by elementary school educators and sexual abuse experts. The goal is to protect young children from abuse by helping them to understand what sexual abuse is, how they can recognize it, how and whom to tell, and empowering kids to take charge of their bodies. Carefully and sensitively presented, the videos uses animated scenarios to illustrate sexual abuse situations and model how kids should react to protect themselves. The key message is that sexual abuse is not the fault of the child and that they don't have to endure abuse in silence.
The parent's video is presented by author and New York City sex crimes prosecutor, Jill Starishevsky, with the goal of teaching parents how to approach a difficult and taboo subject in a proactive and empowering way. Educating girls and boys about sexual abuse will prevent them from becoming victims in the first place.
Part One: Recognizing Sexual Abuse (13 mins)
The concept of body boundaries is introduced and the diff erence between safe and unsafe touches is illustrated using the realnames of private body parts (penis, vagina, breasts and buttocks). Three examples of safe/unsafe touch are told using stylized animation.
Part Two: Stopping an Abuser (9 mins)
This program teaches kids what to do if their body boundaries have been crossed. Using the same scenarios from Part One, students are taught NO and GO; how to say NO assertively and how to GO safely and quickly.
Part Three: Telling Someone (12 mins)
Part three teaches kids how to create their personal safety network. It's a list of trusted adults to go to for help in an emergencyincluding parents, teachers, and others. Viewers learn how to tell a trusted adult what happened using the real names of body parts. Acted out scenarios demonstrate exactly how to do this. Kids are reassured that sexual abuse is never their fault or something to keep secret. If someone touches you inappropriately, tell a trusted adult.
Includes Resource Guide.
"The team at Human Relations Media has hit the ball out of the park once again! Their latest project, "You Are In Charge of Your Body" is educational and empowering for our children today. They will learn to recognize sexual abuse as it occurs, protect themselves from it, and know how and whom to tell. I hope that all of our school-aged children will have this video series available to see as soon as possible. The benefits will be immeasurable!"
–Peter L. Richel, MD, FAAP
---
Related Titles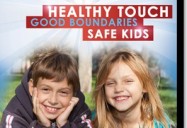 Healthy Touch, Good Boundaries, Safe Kids
Rising Star Education
100030
Children learn Stop, Drop and Roll to protect themselves from fire, but are they learning No, Go...