Home / What's Up With E-Cigarettes?
What's Up With E-Cigarettes?

This item is only available for Canadian orders.
E-cigarette usage by middle school and high school students is exploding even though sales are prohibited to minors in 25 states. While many consider e-cigarettes to be safer than smoking, the FDA has said it is just too early to know the short and long term dangers. This program gives students all the facts that are known today and urges caution. Already there are reports that kids are using e cigarettes for other purposes such as inhaling vapors of marijuana. Experts and teen users address the potential dangers.
Includes Resource Guide.
---
Related Titles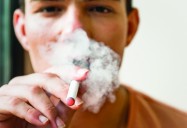 Vaping: More Dangerous Than You Think
Human Relations Media
600639
This video and print curriculum addresses the new craze of vaping drugs (nicotine, alcohol, liquid...