Home / The Mystery of Behind the Mask: Mystery Files (Season 1)
The Mystery of Behind the Mask: Mystery Files (Season 1)

This item is only available for Canadian orders.
This title is a part of the series
Mystery Files (Season 1)
In Aunt Tilley's inherited house, Kyla and E.B. investigate random objects in file drawers that show how history connects to the present. A Celtic calendar leads E. B. to learn about a fall harvest festival the Celts celebrated. A wise goddess, the Crone, was honoured during Samhein. Bonfires and music helped keep spirits away. In some European countries in fall people go door to door asking for food, a predecessor of our trick or treating. At a Vietnamese cultural centre, Kyla learns about a traditional moon man mask. At the end of harvest in Vietnam, children wear masks and dance, carrying lanterns and enjoying sweet moon cake treats. Other Asian countries also honor their ancestors in fall festivals. In a cemetery, E. B. learns about the Latin American "Day of the Dead", from an old Aztec celebration. They paint their faces and bring food to celebrate the life of their ancestors. There are a lot of cultures that have fall harvest-time celebrations using costumes, masks, food, and honouring ancestors, resembling Halloween. Behind the mask we're not so different.
---
Related Titles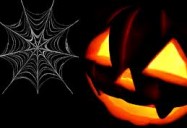 Halloween: It's More Than Tricks and Treats
McIntyre Media Inc.
MCI072
Explore the history and science of Halloween with this new Canadian production! Ghosts. Goblins...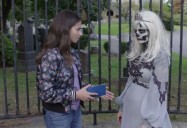 The Mystery of the Undead - Ep. 9: The Mystery Files (Season 2)
Apartment 11
APT030
Kyla and E.B. are in for a spooky time as they try to discover if zombies, vampires, and other...