Home / Chasing Wild Horses
Chasing Wild Horses
This feature length documentary tells the story of photographer Roberto Dutesco and his passion for the incredible wild horses of Sable Island.
Sable Island, a remote island located off the shores of Nova Scotia in the stormiest part of the North Atlantic, has a mysterious history. It is so ringed with shipwrecks (over 500) that it is known as the Graveyard of the Atlantic. For hundreds of years most believed the herd of wild horses that roam the sandy dunes were survivors of shipwrecks, and their fight for survival to this very day is an epic struggle. For Roberto their struggle to survive is just one aspect of their undeniable wild beauty.The island is off-limits to most. You can't go without a reason. Is the search to document true beauty reason enough? Roberto is able to gain access to the remote island by getting permission from Gerry Forbes, Sable Island's superintendent, which enabled him to get his first personal glimpse, photographing and filming the wild horses that haunted his dreams. His short film won acclaim at the New York Film Festival, and was shown on the SONY big screen in Times Square.
In Chasing Wild Horses, we follow Roberto on his return voyage to the island during the foaling season, to meet up with the characters he lovingly photographed years past, and to see how they have changed, how the island has changed, and particularly how this voyage will change Roberto. Life for these horses is always difficult due to the extreme weather that surrounds this tiny island, but what is proving to be more dangerous is the effects of human contact. Through his art, Roberto wants to bring attention to Sable Island and support the various organizations dedicated to preserving the beauty of an island untouched. He believes that the people of New York City will band together to protect and preserve the horses of Sable Island forever.
---
Related Titles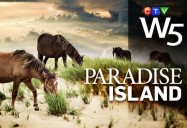 Paradise Island: W5
CTV
CTV647
Sable Island, a secluded sandbar 300 kilometres southeast of Nova Scotia, is an almost magical...