Home / Paradise Island: W5
Paradise Island: W5
Sable Island, a secluded sandbar 300 kilometres southeast of Nova Scotia, is an almost magical place few Canadians will ever see it in person. A fragile strip of sand populated by seals and wild horses grazing on windswept beaches. Todd Battis explains the constant threats to Sable Island's delicate ecosystem, and the strong legislation in place to protect it. The island is under constant threat: ravaged by the thrashing Atlantic Ocean on its northern side, the entire island is suffering the effects of climate change. Rising sea levels are causing waves to cut into the coastline and rip at the dunes. Furthermore, as W5 reveals, the biggest looming threat to Sable Island's delicate ecosystem may loom just off - shore; massive oil and gas drilling rigs.
---
Related Titles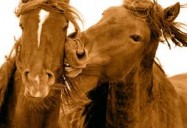 Chasing Wild Horses
Arcadia Entertainment Inc.
AR056E
This feature length documentary tells the story of photographer Roberto Dutesco and his passion for...