Home / Aboriginal Day Live 2015
Aboriginal Day Live 2015

This item is only available for Canadian orders.
Catalogue Number:
AS0188
Producer:
Animiki See Distribution Inc.
Subject:
Arts
,
Canadian History
,
Canadian Social Studies
,
Entertainment
,
Family Studies/Home Economics
,
First Nations Studies
,
Indigenous Peoples
,
Music
,
Social Sciences
Language:
English
Grade Level:
6 - 8, 9 - 12, Post Secondary, Adult
Country Of Origin:
Canada
Copyright Year
: 2015
Running Time:
77:13
The ABORIGINAL DAY LIVE 2015 REPACK highlights top performances from the live event featuring Don Amero, Federal Lights, Lightning Cloud, marijosée, Mike Bone, Patti Kusturok, Shayne & Taylor May,Trad, Crystal Shawanda, Murray Porter, Nathan Cunningham, and Northern Cree Singers.
Aboriginal Day Live (ADL) is the nation's largest event in recognition of National Indigenous Day. For 15,000 years, the Aboriginal peoples of Turtle Island have gathered on this sacred day of the summer solstice to celebrate their culture, inspire their children and honour the wisdom of their elders. Through live music, people are brought together in celebration of Indigenous Peoples' unparalleled contributions to Canada. National Aboriginal Day was first celebrated on June 21, 1996. Now renamed, "National Indigenous Peoples Day".
---
Related Titles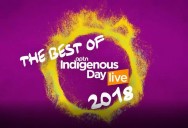 Indigenous Day Live 2018 Series
Animiki See Distribution Inc.
AS0631
INDIGENOUS DAY LIVE is a music series featuring a 4×30' HD repack of live concerts & solo...