Home / La Mauricie National Park: A Park For All Seasons Series
La Mauricie National Park: A Park For All Seasons Series
This title is a part of the series
A Park For All Seasons Series
The 150 lakes here are clogged with the effects of a hundred years of logging. The desire to preserve what hasn't been lost has also damaged the forest. Now prescribed burns and lake cleanups are attempting to erase the sins of the past.
---
Related Titles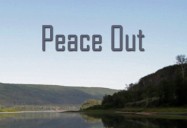 Peace Out
Indiecan Entertainment Inc.
ICE000
Peace Out is the story of western Canada's magnificent Peace River, and the true on-the-ground...