Home / Stargazer's Paradise: Cosmic Vistas (Season 2)
Stargazer's Paradise: Cosmic Vistas (Season 2)
This title is a part of the series
Cosmic Vistas (Season 2)
Catalogue Number:
BAM046
Producer:
Blue Ant Media
Subject:
Science
Language:
English
Grade Level:
9 - 12, Post Secondary
Country Of Origin:
Canada
Copyright Year
: 2011
Running Time:
25
Closed Captions:
Yes
High in the mountains and far removed from the light pollution of big cities, the Atacama Desert in Chile provides some of the best views on earth of the night sky. Advanced telescopes gather images that rival, and sometimes surpass the Hubble Space Telescope.
---
Related Titles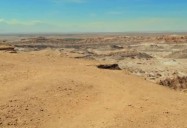 Atacama Desert, Chile: Undiscovered Vistas Series
Blue Ant Media
BAM302
Stretching along 600 miles of Northern Chile's Pacific coast is the dryest non-polar region on...