Home / Design By Decade Series
Design By Decade Series
From the post-war Modern style to the diversity of the new millennium – explore six decades of Canadian design.
Featuring the collection of the Design Exchange - Canada's National Design Museum, Design by Decade reveals the exceptional stories behind the objects of everyday life. These are the symbols of our cultural past and present.
A comprehensive and informative Canadian-produced series aimed at Grade 10 to College/University courses. Excellent resource for Canadian History, Family Studies and Home Economics, Art, and Industrial Design courses.
6 programs, 30 minutes each.
---
Related Titles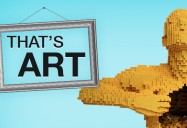 That's Art Series
Blue Ant Media
BAM063
Art is all around us: tattoos, graffiti, movie posters and book covers. That's Art?! introduces you...