Home / Our Spaces: Walrus TV (Episode 5)
Our Spaces: Walrus TV (Episode 5)
This title is a part of the series
Walrus TV Series
In a world so bursting with information, it's easy to forget that spaces we live, work, and play in carry meaning. As we negotiate our way through our daily lives, we pass through many spaces without a thought.
Includes:
Of Culture and Condos: The Garrison Mentality
Shortly before he died, the literary critic Northrop Frye foresaw an insidious cultural phenomenon: Canada's "condominium mentality".
The New Normal
Canada's largest mental health facility is undergoing a multimillion-dollar facelift that reflects a greater cultural shift, the mainstreaming of mental illness.
---
Related Titles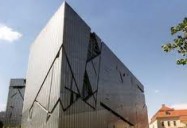 Breaking the Wall of Convention: How Architecture Can Provoke...
Films Media Group
394475
The economic impact of buildings with a high "wow" factor on cities like Bilbao, Manchester, and...