Home / High Arctic: Canada Over the Edge (Season 4)
High Arctic: Canada Over the Edge (Season 4)
This title is a part of the series
Canada Over the Edge (Season 4)
The Sealift: Getting Food and Supplies to Arctic Bay
Ikpiarjuk ("The Pocket" in Inuktitut) is on a beach surrounded by incredible hills. The Nunavut Sealink & Supply's annual summer visit is crucial for the survival of this Inuit community. Roma Laframboise coordinates operations on the ground, moving winter supplies from a cargo ship to smaller barges, and then to shore. Communities throughout the eastern Arctic eagerly await oil tanks, televisions, even trucks purchased from the south.
Geology of the High Arctic
The geology and geography of Arctic Bay includes the St. George's Society Cliffs, hoodoo structures and fjords, protected inlets, rivers and streams. This area is a remote, scenic wonder with amazing geological structures carved over millions of years.
Lancaster Sound National Marine Protected Area
Lancaster Sound is an area of ecological importance to marine mammals, such as seals, narwhal, beluga and bowhead whales, walrus and polar bears, and has important seabird breeding colonies. In 2010, the government proposed a national marine conservation area here, encompassing more than 40,000 km2. This confirms Canada's commitment to protect Lancaster Sound's unique marine waters and wildlife.
Stone Carvers of Gjoa Haven, Nunavut
Residents of Taloyoak and Gjoa Haven, on the Boothia Peninsula at the Northwest Passage, are descendants of the ancient Thule peoples. Many still spend months each year on the land, continuing and developing local traditions. Charlie Oopik is a stone carver whose specialty is carving exotic faces, a trademark of Gjoa Haven carvers.
---
Related Titles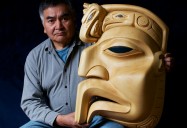 Carver of Stories: DocJam Series
Canazwest
CPI006
"Art has to come from a history and foundation, and ours is our stories..." Those are the words of...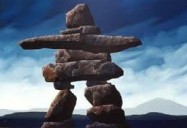 Nunavut (Canada AM)
CTV
CTV556
To celebrate Nunavut Day, Canada AM visited Canada's huge northeastern territory.  Symbols and...