Home / Northwest Passage: Canada Over the Edge (Season 4)
Northwest Passage: Canada Over the Edge (Season 4)
This title is a part of the series
Canada Over the Edge (Season 4)
Catalogue Number:
BAM184
Producer:
Blue Ant Media
Subject:
Canadian History
,
Canadian Social Studies
,
Documentary
,
First Nations Studies
,
Geography
,
History
,
Music
,
Social Studies
,
Travel
Language:
English
Grade Level:
6 - 8, 9 - 12, Post Secondary
Country Of Origin:
Canada
Copyright Year
: 2015
Running Time:
52
Closed Captions:
Yes
Throat Singers of Gjoa Haven, Nunavut
Gjoa Haven is located just north of the 68th parallel, one degree above the Arctic Circle. The hamlet was officially established in 1961, with the opening of a Hudson's Bay trading post. Today it is home to 1100 Inuit people know as the Netsilimmiut, translated "People of the Place Where There is Sea." Kathy Keknek and Janet Aglukkaq are throat singers from Gjoa Haven. Throat singing, a vocal technique used by cultures globally, is one of the world's oldest forms of music.
Gjoa Haven was visited by early European explorers like John Ross, Roald Amundsen and John Franklin, seeking a maritime route through the Arctic Ocean, the Northwest Passage. Amundsen spent two winters there, 1903-5. Jacob Keanik, Chairperson for the Nattilik Heritage Society explains how knowledge from the Inuit people helped explorers survive.
Victoria Strait: Heart of the Northwest Passage
The European quest to find a Northwest Passage began when Parry's 1819 mission ventured north into uncharted waters. Others followed, and finally, in 1903, Roald Amundsen, in a converted herring vessel called "Gjoa", became the first explorer to complete the Northwest Passage. Jesse Osborn is now on a modern expedition on the Empiricus, attempting to traverse the Northwest Passage from west to east.
Inuit Culture and Tradition
The Victoria Island and Cambridge Bay area in Nunavut, home to Arctic plants and mammals, also has a rich cultural tradition. The Kitikmeot Heritage Society is working to integrate traditional knowledge and language into society, and elders share their knowledge with children. Julia Ogina discusses the traditional Inuit drum dance.
The Search For Franklin's Lost Ships
The Martin Bergmann, a converted trawling vessel, is used in studies for the Arctic Research Foundation, gathering water samples, tracking Arctic char and collecting soapstone for local Inuit artists. The Autonomous Underwater Vehicle, a remote-controlled probe, played a key role in the locating the HMS Erebus, one of the lost ships of Sir John Franklin, last seen in 1845.
---
Related Titles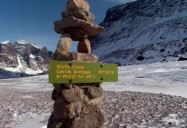 Auyuittuq National Park: A Park For All Seasons Series
Blue Ant Media
BAM155
Above the Arctic Circle, in Canada's far north sits Auyuittuq National Park. This remote wilderness...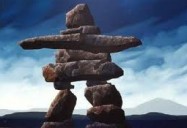 Nunavut (Canada AM)
CTV
CTV556
To celebrate Nunavut Day, Canada AM visited Canada's huge northeastern territory.  Symbols and...