Home / Klondike Trail: Canada Over the Edge (Season 4)
Klondike Trail: Canada Over the Edge (Season 4)
This title is a part of the series
Canada Over the Edge (Season 4)
Dawson City: Dredging for Gold
When the Klondike Gold Rush occurred in 1897, Jo LeDoux knew they needed a service and supply centre. Instead of staking a gold claim, he staked the town site of Dawson, a tent city in a swamp, and sold off lots. Today, reminders of the gold rush still stand. Just outside of town you can visit Dredge Number Four, 8 stories high, which dug deep beneath Bonanza Creek in search of gold for decades.
Building the Railway: Whitehorse to Skagway
By 1897, campsites lined the banks of the Yukon River, full of prospectors eager to reach Dawson City. In 1900, Whitehorse changed forever with the completion of the railroad, connecting Whitehorse to Skagway. Steven Caulfield, a brakeman for the railway discusses its origin. Building it was no simple task.
Well before the gold rush of 1897, the First Nations were trading from the coast with interior First Nations. The Chilkoot Trail goes from the Pacific Ocean, over the Coast Mountains, and into the Yukon border, and it quickly became popular in the outside world with rumours of gold.
---
Related Titles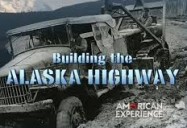 American Experience: Building the Alaska Highway
PBS Video
040558
In May of 1942, across the rugged sub-Arctic wilderness of Alaska and Canada, thousands of American...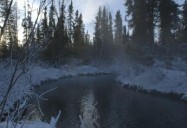 Liard River Hot Springs Provincial Park: A Park For All Seasons...
Blue Ant Media
BAM025
A popular stopover for people traveling the Alaskan Highway, this remote park in Northern BC is...