Home / Lonnie Johnson; Fred McDowell; Mike Francis, Keith Scott and Jay Jay French; Richard Hoover: Guitar Picks (Season 1)
Lonnie Johnson; Fred McDowell; Mike Francis, Keith Scott and Jay Jay French; Richard Hoover: Guitar Picks (Season 1)

This item is only available for Canadian orders.
This title is a part of the series
Guitar Picks (Season 1)
So you want to know who the first guy was to play blues guitar and to really make the guitar the instrument that it was? He played with Louis Armstrong and Duke Ellington. He's the main "guitaristic" influence on T-Bone Walker who started the blues which became B.B. King, Eric Clapton. The kings of jazz and blues look to one man - that man was Lonnie Johnson.
Fred McDowell was known by his stage name,"Mississippi" Fred McDowell. He was an American hill country blues singer and guitar player. He also owned an rare and unusual guitar in the 60s - a Crouchelli.
Richard Hoover owns Santa Cruz Guitars, who make around 700 guitars per year - the same number that larger, well-known companies can create in a day! Richard makes all of his guitars using only ancient, reclaimed redwood. The ancient reclaimed wood goes through a chemical change over its lifetime, which changes the reverberation properties of the wood, which creates a unique sound. Local Native Americans and in the northwest would sink lumber for hundreds of year to get the same unique sound as Richard gets out of his ancient redwoods.
Famous guitar collectors from Keith Scott of Bryan Adams' band, to Jay Jay French, rhythm guitarist for Twisted Sister, try to articulate why the guitar holds such beauty, pleasure and obsession for them.
---
Related Titles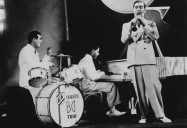 Jazz By Ken Burns
PBS Video
040269
Share the triumphant story of the most American of art forms and a nation's unfolding human drama...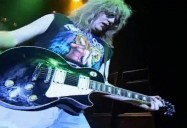 Secret Obsession: Guitar Picks (Season 2)
Blue Ant Media
BAM395
In this episode of Guitar Picks, Twisted Sister guitarist Jay Jay French might be known for his...