Home / Wild Seas: Arctic Secrets Series
Wild Seas: Arctic Secrets Series

This item is only available for Canadian orders.
This title is a part of the series
Arctic Secrets Series
Catalogue Number:
BAM362
Producer:
Blue Ant Media
Subject:
Geography
Language:
English
Grade Level:
6 - 8, 9 - 12, Post Secondary
Country Of Origin:
Canada
Copyright Year
: 2016
Running Time:
60:00
On the north-east coast of Baffin Island, in Canada's Arctic, lies Ninginganiq, a blustery wilderness where only the intrepid travel. The Inuit have lived here for thousands of years navigating around the dangerous sea ice for hunting and fishing in their umiaks and kayaks. As winter nears, one of nature's great spectacles unfolds here, rarely witnessed by humans. Giant bowhead whales gather to feed and socialize. This area is also impacted by El Nino. With climate change, the wild seas of Ninginganiq grow more savage every year.
---
Related Titles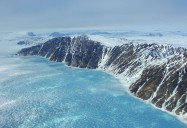 Baffin Island North: Canada Over the Edge (Season 4)
Blue Ant Media
BAM182
Introduction to Baffin Island Explorers like Martin Frobisher and John Davis could not have...