Home / Jago: A Life Underwater
Jago: A Life Underwater

This item is only available for Canadian orders.
Catalogue Number:
BAM476
Producer:
Blue Ant Media
Subject:
Canadian Social Studies
,
Canadian World Studies
,
Character Education
,
Documentary
,
Environmental Studies
,
Geography
,
Indigenous Issues
,
Indigenous Peoples
,
Science
,
Social Sciences
,
Social Studies
,
Sociology
Language:
English
Grade Level:
9 - 12, Post Secondary
Country Of Origin:
Canada
Copyright Year
: 2015
Running Time:
60:00
Closed Captions:
Yes
This drama-documentary tells the life story of Rohani, an 80-year-old hunter who dives like a fish on a single breath, descending to great depths for several minutes. He is one of the Bajau people, Austronesian sea nomads who are able to free dive for exceptionally long periods of time. Set against the spectacular backdrop of the Togian Islands in Indonesia where he grew up, this award-winning film recreates events that capture the extraordinary turning points in his life, as a hunter and as a man. Through a mixture of interviews and cinematic re-enactments, the film charts Pak Rohani's extraordinary life; learning to dive, losing his son and coming to terms with his own mortality. Rohani demonstrates the Bajau way of sustainable fishing, talks about how trawling destroys marine life, and describes human and fish population changes. He says of the sea spirits, "If we destroy the coral, they destroy us". Music composed by William Goodchild, featuring performances by cellist Kwesi Edman, vocalists Joanna Swan and Emily Wilmott, percussionist David Oliver, and guitarist Nick Pullin.
ENGLISH SUBTITLES
GRAND TETON AWARD: Jackson Hole Wildlife Film Festival
Special Jury Award, New York Wildlife Film Festival.

---
Related Titles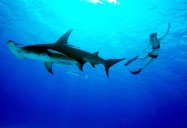 Sea of Life
Oceanic Productions
OP0000
The ocean produces most of the oxygen in the air that we breathe. It's home to 80% of all life on...