Home / Precious Waters: Waterworld Africa Series
Precious Waters: Waterworld Africa Series

This item is only available for Canadian orders.
This title is a part of the series
Waterworld Africa Series
It's winter - the dry season in the northern savannas of South Africa's lowveld. Life in the savannas of Africa is ruled by water and throughout the long dry season life-giving rivers run dry, harsh drought conditions prevail - and so waterholes become crowded. At this time of the year, the quest for water governs the lives of all who live here. And so competition for space in the remaining waterholes is fierce and sometimes the lack of water even makes strange bed-fellows.
---
Related Titles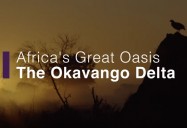 Africa's Great Oasis - The Okavango Delta: Africa's Wild...
Blue Ant Media
BAM385
Trapped in one of Africa's great deserts lies a lush hidden world. An untamed wilderness unlike any...