Home / Waterworld Africa Series
Waterworld Africa Series
With freshwater forests, saline lakes and diverse deltas, Africa boasts some of the most important wetlands and rivers in the world. Discover what lurks beneath the surfaces of the Congo River and Botswana's Okavango Delta, and see who's travelled to get a drink from precious but perilous floodplains. From tigerfish to hydrating hippos, you've never seen Africa like this.
8 programs, 46 minutes each.
---
Related Titles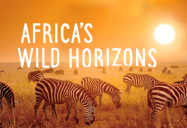 Africa's Wild Horizons Series
Blue Ant Media
BAM382
Much of our world today is covered in skyscrapers and concrete. But there are still some places...