Home / Chobe: River of Life: Waterworld Africa Series
Chobe: River of Life: Waterworld Africa Series

This item is only available for Canadian orders.
This title is a part of the series
Waterworld Africa Series
Deep in southern Africa, a mighty river snakes through untamed wilderness. Its vast flood plains are a magnet for wildlife. In the dry season animals travel great distances to reach this oasis and during droughts space and resources are at a premium. But every animal has its place along the banks of the mighty Chobe river. The river winds through the parched landscape of northern Botswana. Flooded by distant rains during the dry season, it's the only water for miles around.
---
Related Titles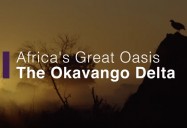 Africa's Great Oasis - The Okavango Delta: Africa's Wild...
Blue Ant Media
BAM385
Trapped in one of Africa's great deserts lies a lush hidden world. An untamed wilderness unlike any...