Home / Source to Sea: Waterworld Africa Series
Source to Sea: Waterworld Africa Series

This item is only available for Canadian orders.
This title is a part of the series
Waterworld Africa Series
Despite many obstacles, a river always finds its way from source to sea as part of the earth's water cycle. Rivers are born in the mountains, and on the roof of Southern Africa, clouds release their moisture against the rocky mountain crags and gravity moves the water in a twisted journey down to the sea. The water is sometimes locked in ice form on the mountain for a time, but in springtime, it begins to melt. Maluti River frogs and ice rats have adapted to survive in these icy waters. Waterfalls cascade into deep pools, and the river water's corrosive and abrasive properties erode hard, granite rock, excavating valleys and changing the landscape as it flows. At the base of the mountains, the river slows in the flatter lands, and in the dry season, the land absorbs much of the water. Endangered African animals rely on the river for survival and a migration path, and trees also draw water from the sandy soil. As the rainy season begins, water rejuvenates the land. Swollen tributaries feed the river, expanding its depth and width. As the river leaves the plains and enters the tropical coastal zone, it becomes languid, depositing rich sediment that fosters abundant growth. Water birds and other animals feed on fish, nuts and aquatic plants. Closer to the Indian Ocean, traditional, sustainably-designed fish traps, set up by subsistence fishermen, form a distinct pattern in the river. Nearest the ocean, the river becomes saline as it mixes with sea water, the perfect habitat for mangrove trees and crabs that feed on fallen leaves. The river finally meets the sea, bringing nutrients for the estuary life in the inshore ecosystem. And one day a new cycle will begin as clouds form again over the ocean.
---
Related Titles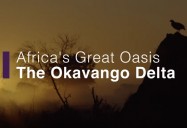 Africa's Great Oasis - The Okavango Delta: Africa's Wild...
Blue Ant Media
BAM385
Trapped in one of Africa's great deserts lies a lush hidden world. An untamed wilderness unlike any...