Home / Devil's Bargain: A Journey Into the Small Arms Trade
Devil's Bargain: A Journey Into the Small Arms Trade
Small arms are the real weapons of mass destruction, killing more than half a million people a year, spreading like a disease and destabilizing entire regions. Beginning in the gun markets of Somalia, we witness their horrific impact.
But no guns are made in Somalia. From France to South Africa, Bosnia, Moldova, the United States and Canada, Devil's Bargain examines the ways in which guns slip from legal to illicit markets. From dealers, to pilots, to end-users, to the victims, we discover a largely unregulated trade in what has become the globalization of death.
When 200,000 AK-47s go missing from Bosnia, activists call for an International Treaty to curb the trade. But it's blocked by the super power, and loopholes "big enough for an Antonov to fly through" continue to allow the flow of guns that destabilize our world…
Narrated by Kiefer Sutherland.
"This is a must see if you care at all about the social-political issues in the wider world. With characteristic aplomb and incisive reporting, director Shelley Saywell follows the small-arms trade around the world… It's a deeply disturbing picture of the trade in guns and tells us how little is really known about the shadowy world in which arms dealers exist." " - Globe and Mail
"For years Saywell has been crafting a series of often-brilliant documentaries on the precarious stare of human rights around the world. Here she tackles the illegal global arums trade and her documentary is chock full of insights….Saywell's images are vivid and stark. She won an Emmy for her shattering documentary Crimes of Honour and she should win a second one for Devil's Bargain, its that compelling." — Jim Bawden, TV critic
"Many thanks for the extraordinary documentary you have produced. I am furthermore encouraged to pursue aggressively my work in attempting to eradicate the use of child soldiers as the primary weapon systems in over 30 conflicts in the world. Your attention to detail, intellectual rigor and objective presentation of the facts surrounding these weapons of mass destruction in the hands of children is a primary reference in our campaign." - Lieutenant-General the Honourable Romeo A. Dallaire

---
Related Titles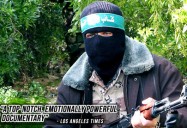 Hamas: Behind the Mask
Bishari Films
BF0006
This one-hour journalistic exploration by acclaimed documentary filmmaker Shelley Saywell takes the...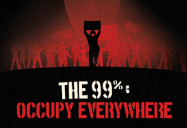 99%: Occupy Everywhere
Passion River Films
PR3502
This award-winning film, narrated by Lou Reed, has been broadcast on three US television stations...