Home / Breakdancing (Centripetal Force - Motion in a Curved Path): Sports Lab Series
Breakdancing (Centripetal Force - Motion in a Curved Path): Sports Lab Series

This item is only available for Canadian orders.
This title is a part of the series
Sports Lab Series
B Boy, Logan discovers that centripetal force has a lot to do with some of his wild breakdancing moves. The best surface for this art/sport is a slippery surface, reducing friction. Pro Jim (aka BBoy JFX) demontrates his power move, the windmill, and we learn that it requires centripetal force, the force that keeps an object moving around an axis in a circular path. The more power put into a move, the less strength needed to maintain the action. Pro tips include the importance of hydration when you are working muscles hard, and the advantage of listening to music often, feeling the rhythm of the dance.
---
Related Titles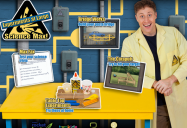 Drag Racer (Inertia)
Breakthrough Entertainment
BTE092
Phil builds a small drag racer in the lab that uses the inertia of its wheels to move. Then he...